How to organize a small laundry closet
15 Laundry Closet Organization Ideas
Organizing | 02.10.20
Need to organize your small laundry space? Here are 15 of our best laundry closet organization ideas!
When you have a small space for doing laundry, it's easy for it to quickly become cluttered and overwhelming. Today, we're sharing our best tips and tricks to to create an organized laundry closet and keep it clean once and for all!
15 Laundry Closet Organization Ideas
1. Add Shelves
Take any laundry closet or small laundry room to the next level by adding open shelving! We're loving these easy-to-install shelves that are perfect for any small space.
2. Use a peg board
What can you do with a peg board in your laundry room? Add shelves to it, hanging storage, hang your ironing board, broom, supplies, and so much more. We love saving space with a peg board!
3. Store miscellaneous items in baskets
Have miscellaneous items in your laundry closet that need a home? Use storage baskets to keep smaller items and make them look organized! Baskets are also beautiful and perfect as decor.
4. Use curtains
If your laundry closet is more like a laundry "area" in your home, you can tuck it away by adding curtains. Another option is to add curtains to the storage area on top of your washer and dryer!
Source: Decor It's
5. Use doors
Want to give your laundry area a cleaner look? Add foldable or sliding doors to the area to truly convert it into a closet!
6. Hang your ironing board
If you use an ironing board, save on space by hanging it up behind a door or tuck it away between your washer and dryer. You can also hang your steamer behind a door as well!
7. Install a drying rack
Install a drying rack or hanging bar over your washer and dryer to save space! Can't hang a drying rack? Use a foldable drying rack instead!
8. Use the backs of doors
Need extra space? The backs of doors are often overlooked as an area to store smaller items! Add a door rack to the back of your laundry room or closet door for storing laundry soaps, sprays, stain removers, lint rollers, and other small items.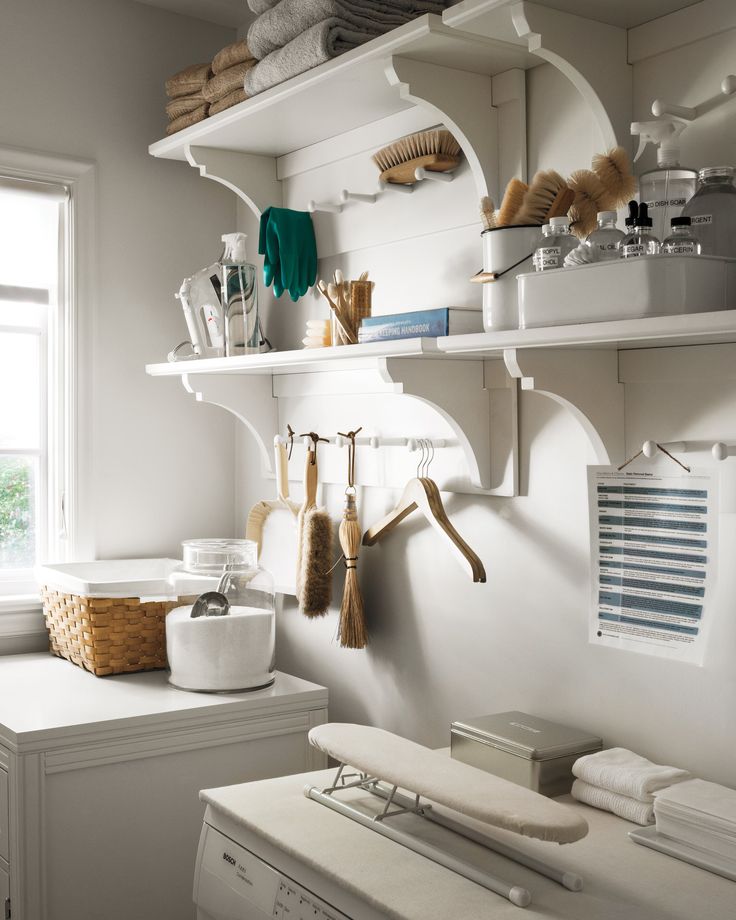 Source: @cottageandsea
Source: @shealinashley
9. Add counter space
Add butcher block on top of your washer and dryer for more counter space in your laundry closet. This also helps make the space look more organized and put together!
10. Add hooks
You'd be surprised how adding hooks to the bottoms of your laundry room shelves can organize the space! Use them to hang brushes, linens, microfiber cloths, or other miscellaneous items.
11. Use a skinny laundry room cart
Store anything and everything in a rolling laundry room cart that's perfect for keeping in small spaces! Whether you store it behind a door or in between the washer and dryer, this cart is perfect for organizing a small laundry closet.
12. Use clear containers for detergent
Invest in matching, clear containers to store your laundry detergent in. We're loving these OXO POP containers because they come with a scoop that's perfect for dry detergents! For liquid detergents, try using large mason jars for easy pouring.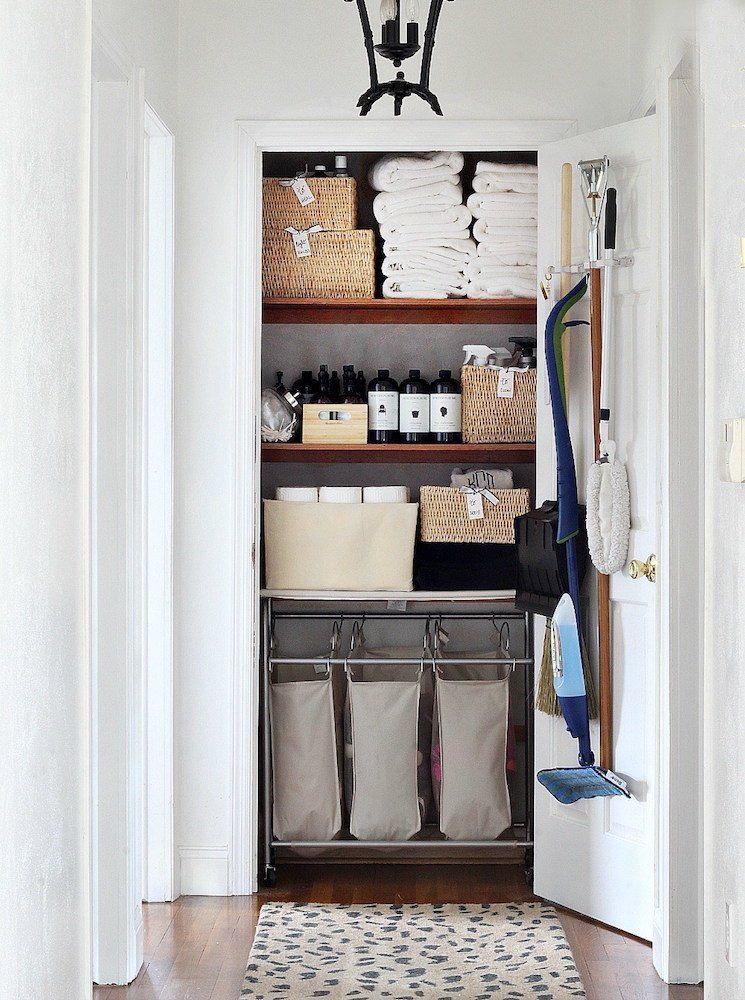 13. Keep a 3-bag hamper close by
Need a system for organizing your dirty clothes? A 3-bag hamper makes life SO much easier! This one rolls, making it easy to bring it from your closet (or bedroom) to the laundry room. And everything is already separated, saving you time and energy!
14. Decorate the space
Take your small laundry room to the next level by adding decor! This can help give it a beautiful and organized feel. Whether it's a pretty sign or faux flowers, adding a little touch of decor can make the space feel like home.
15. Add plants
Don't know where to start with decor? Adding fresh or faux plants to your laundry space is a great way to make it feel fresh and organized. Try a small, low-light plant to get started!
This post may contain affiliate links, please see our privacy policy
Reader Interactions
16 Laundry Closet Organization Ideas to Keep Away the Clutter
By
Grace Gallagher
Grace Gallagher
Grace Gallagher is a lifestyle expert and writer with five years of experience covering home furnishings, storage, and organization.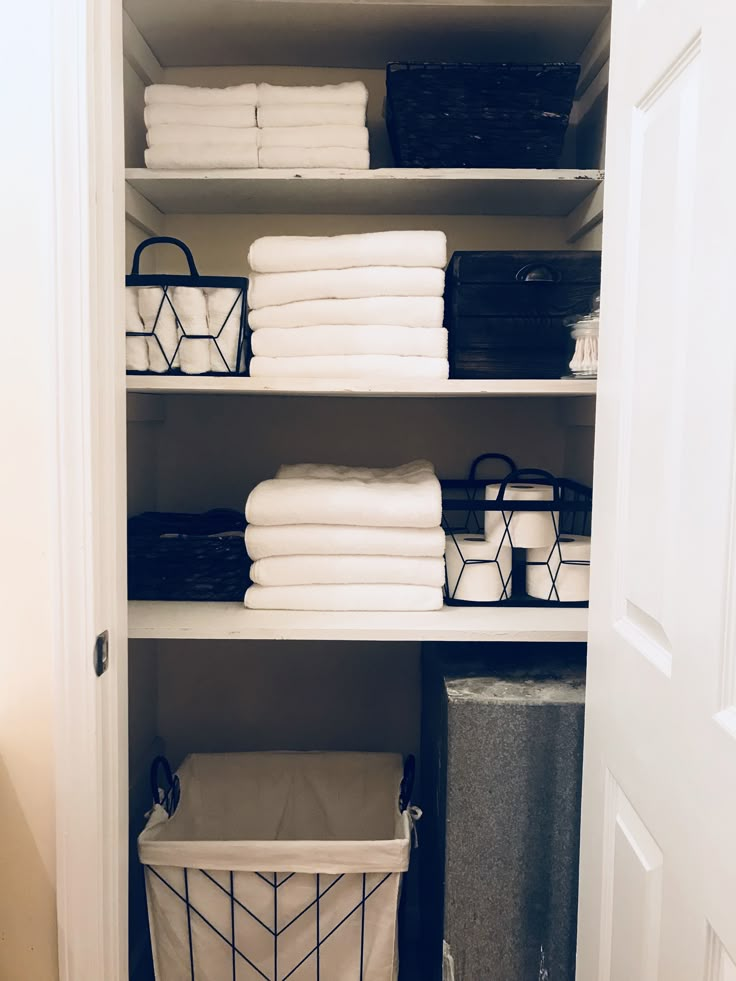 She has also written for Greatist, Veracity Selfcare, Brit + Co, and others. Grace also taught creative writing workshops in Portland, Oregon.
Learn more about The Spruce's Editorial Process
Published on 06/22/22
@themischiefmanor
Sometimes the only space for a washer and dryer is in a small closet, which is good in that it's out of sight, but it can also be hard to organize. On this list, you'll find laundry closet ideas that make the most of the space from both an aesthetic and a function standpoint. Whether it's using wallpaper to make a laundry room space look bigger or adding shelving in an area that's often dead space, like the back of the door, these laundry closet ideas will prove that you don't need a laundry room to have an organized, dedicated area for washing, drying, and even folding clothes. And while this make not make laundry fun, per se, it'll be a whole lot less tedious when the space is organized.
01 of 16

A Primary Bedroom Closet

Studio DIY

This colorful and cheerful laundry closet is actually part of the primary closet. A stacked washer and dryer make the most of space, and there's a small rattan bin and drawers for laundry supplies.

02 of 16

An Inviting Laundry Closet With Shelves

@my_dolce_casa

A small space that packs a big punch. This laundry closet has plenty of shelving, and a countertop over the washing machine (that's big enough for a microwave) adds functionality, while art and a hanging plant bring a pop of fun.

03 of 16

Wire Shelving

@theorganizingboss

L-shaped wire shelving in a walk-in laundry closet keeps all your detergent, cleaning supplies, and extra paper products organized in reach. Another simple trick for keeping the space organized is to use hooks for storing brooms and mops without taking up floor space.

04 of 16

DIY Laundry Storage

@the.rj.show

Floating shelves are popular, but here's a clever use of storage under the washer and dryer as opposed to above. By elevating the machines slightly off the ground, you gain space for hampers and a counter slab on the top makes it easy to rest detergent and other laundry supplies.

05 of 16

A Wallpapered Laundry Closet

@themischiefmanor

Wallpaper can make a small space look bigger in same cases, and always more exciting and whimsical. Long floating shelves are perfect for storing supplies and you'll have space leftover to display some personal touches like a framed photo and a small plant.

06 of 16

Hamper Storage

Stephyn Meiner, Design Associate @arciform

Sure a laundry closet needs a washer and dryer, but it gets major points if there's a designated space for hampers. This crisp space uses wallpaper to add a fun touch, plus counter space, drawers, and a slim space for a drying rack keep the closet functional.

07 of 16

A Laundry Closet With Double Doors

@bymorganmoi

Bifold doors open to reveal a surprisingly large laundry closet. If your machines don't take up the full width of the closet, it's a good idea to use the side space for storing ironing boardings, a trash can for lint, or hampers.

08 of 16

Classic Wooden Shelves

@thechippedbarn

Rustic wooden shelves add a farmhouse detail to the laundry space. It's nice to have a slimmer shelf for organizing detergents and soaps, while a wider shelf can hold dry balls and other smaller odds and ends. They can all be placed in labelled bins so you always know where to find them.

09 of 16

Organized Laundry Products

Breathing Room Organization

Yep it turns out even your laundry supplies can look chic if you take care in organizing them. Getting rid of all external packaging cuts down on bulk, while bins with tops keep the clutter contained.

10 of 16

A Functional Wooden Countertop

@afreshspace

If you want to keep your laundry closet clean and sparse, shelving is a great way to keep products out of sight. A wooden countertop with nothing on it may seem like a missed opportunity but it's actually the perfect spot for folding clothes.

11 of 16

Woven Baskets for the Laundry Shelves

@afreshspace

Everything has a space in this organized laundry room, and even the detergent has been decanted into a glass jar (which means you'll know when you're running low). Labelled baskets are easy to implement, plus because you always know where things belong, it's not too hard to maintain the system.

12 of 16

Sliding Barn Doors

@khaleelg.realestate

Sliding barn doors are a great way to keep a washer and dryer out of sight, plus you won't have to worry about having enough space to fully open the closet doors. This laundry closet is extremely narrow (it's the width of one door) but it's totally functional and there's even room for a small folding station.

13 of 16

Behind the Closet Door

@nycneat_louisa

We love how in this small laundry closet, the area behind the door, which often goes unused, has slim shelves for the iron, cleaning products, and laundry supplies.

14 of 16

A 70's-Inspired Laundry Closet

@northwoodsupply

In this roomy, retro laundry closet, laundry will feel like less of a chore. Painted floors, plenty of throw rugs, and a fun accent wall make this space sing, and it's spacious enough for a hanging rack and a dresser.

15 of 16

Peel and Stick Wallpaper

@diy.whitney

Even the washer and dryer got a little facelift in this DIY laundry closet upgrade. Peel and stick wallpaper is renter-friendly and it's a great choice if you want to try out the look (plus it's a lot easier to DIY than more permanent options). A long floating shelf leaves plenty of space for supplies.

16 of 16

A Laundry Closet in a Playroom

@alistinteriors

This discrete laundry closet packs all the punch of a bigger space: there's tile-like wallpaper, a sink, space for hanging clothes to dry, plus cabinets for keeping all the less glamorous stuff out of sight. This way, you can display plants and other pretty trinkets instead.
8 Ideas for Organizing Home Laundry in a Small Apartment
In the Bathroom
If the size of your bathroom allows, organize your home laundry there. Hint: the area of ​​​​the bathroom can be increased by a corridor or hallway. Another life hack: the washing machine and dryer will fit perfectly on top of each other, saving a lot of space on the floor.
Photo: Instagram inspire.paularoque
Hallway/corridor
Public access
However, the owners of a spacious hallway do not even need to arrange a redevelopment: a mini-laundry may well be located near the entrance or, on the contrary, in a far secluded corner of the corridor. Do not forget to provide waterproofing of the floor in the room and coordinate the transfer of the wet zone.
Photo: Instagram inspire.paularoque
In the closet
For those who are confused by the placement of the laundry area in plain sight in the hallway, there is an option to hide the utility corner behind the cabinet doors.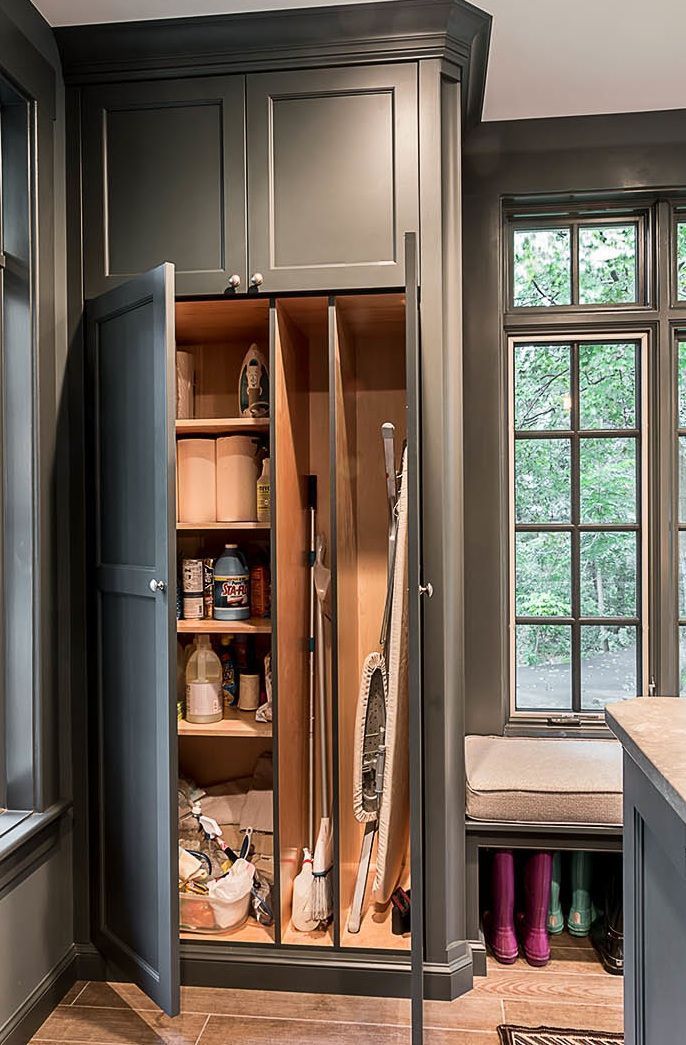 nine0005
Photo: Instagram inspire.paularoque
In a niche
Another solution to hide a mini-laundry room and gain some extra space for it in the hallway is a niche. Please note: so that household units do not overheat, do not move them close to the wall, leave some space behind and on the sides for air circulation - this way electrical appliances will last longer.
Photo: Instagram inspire.paularoque
As part of storage system
There is also a compromise option that allows you to partially hide the laundry area in the hallway, while maintaining quick direct access to the washing machine and dryer - household appliances built into the storage system. It looks very aesthetically pleasing, while access to the units does not need to open any doors.
Photo: Instagram kazakservice
In the kitchen
Many consider the kitchen to be a good place to place a washing machine. Why not go further - and place a full-fledged mini-laundry room right here? Everything you need will be perfectly hidden behind the facades of the headset, and the transfer of wet areas, coordination and redevelopment will not be required.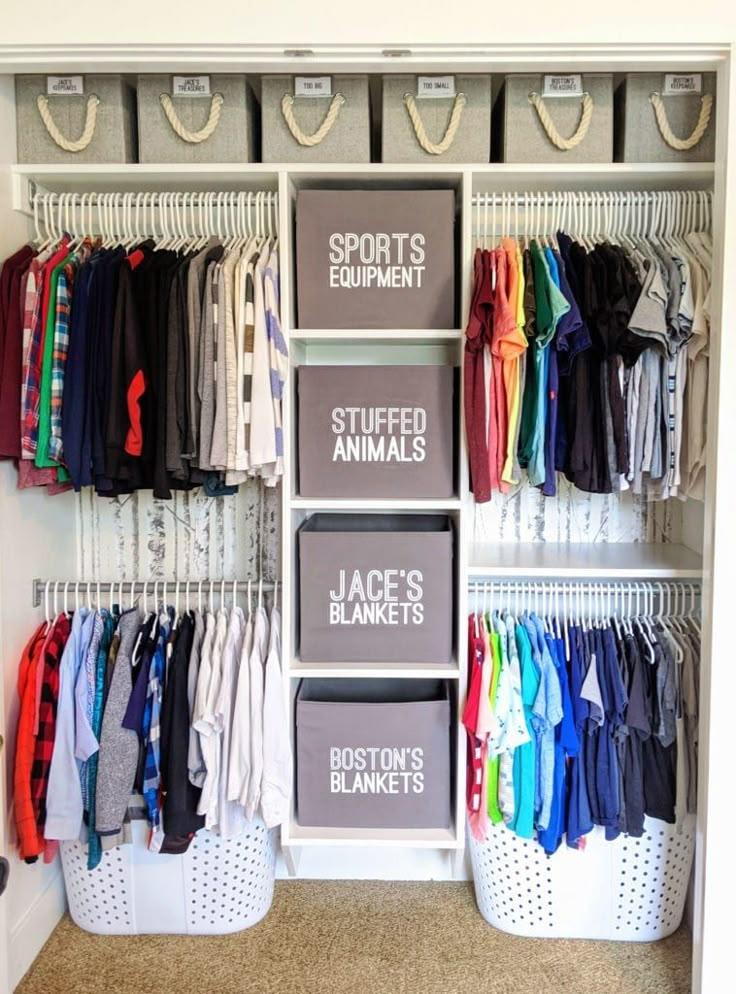 nine0005
Photo: Instagram inspire.paularoque
Under the stairs
The fashion for the loft style has made loft beds very popular, and the organization of a mezzanine bedroom in small spaces is becoming an increasingly common solution. Does your small apartment also have a staircase leading to the second tier, floor or mezzanine? Use the space below it to good use: place a home laundry there.
Reception can also be adopted by those whose housing is located on the attic floor. nine0005
Photo: Instagram odinspiracjidorealizacji
In a separate room
Do you think that only owners of country houses and very large apartments can afford to organize a laundry in a separate room? Not at all! Even in a small space, you can separate a small corner, placing everything you need there.
Of course, you will have to sacrifice a small part of the space. But in a dedicated utility room, you can transfer all household items, organize convenient storage of household chemicals, think over the aesthetic sorting of dirty linen, and finally determine a place for an ironing board and iron.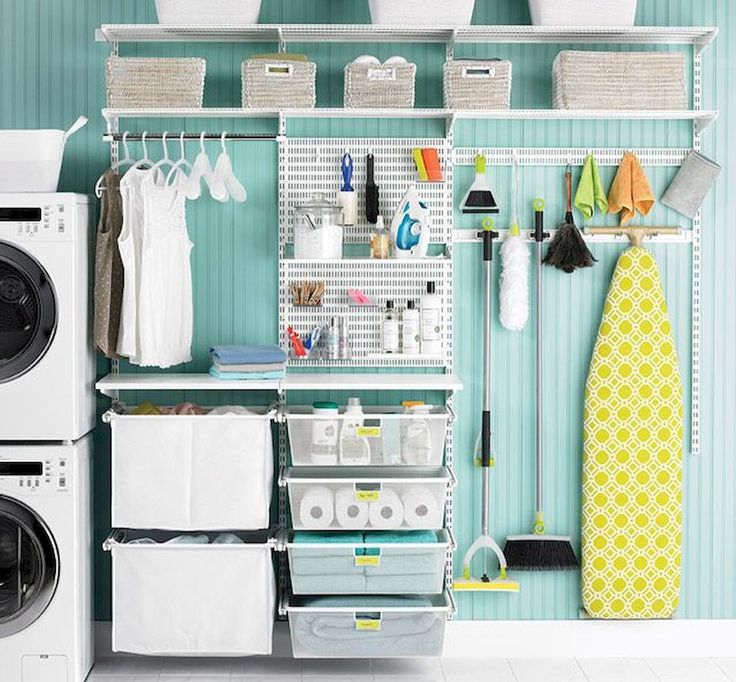 Agree, a good compromise? nine0005
Photo: Instagram inspire.paularoque
Please note: no matter where you decide to organize a mini-laundry at home, it is important to provide good ventilation in the chosen room, waterproofing the floor, and also treat the walls (if they are not tiled) before painting or wallpapering with a special primer that prevents the appearance of fungus.
Prepared by
Ekaterina Boglevskaya
How to equip a small laundry room in a typical apartment — INMYROOM
Many housewives, complaining about the modest size of typical housing, often do not even consider the idea of ​​arranging a home laundry. And in vain! Having your own functional laundry has a lot of advantages. We share the main ones and tell you how to fit everything you need in a limited space.
Why you need a laundry room: 3 good reasons for arranging it
1. Convenience. Whatever one may say, it is much more convenient to collect the entire clothing care complex in one place than to go out onto the balcony with a basin of wet laundry or to install a folding ironing board in the middle of the living room every time.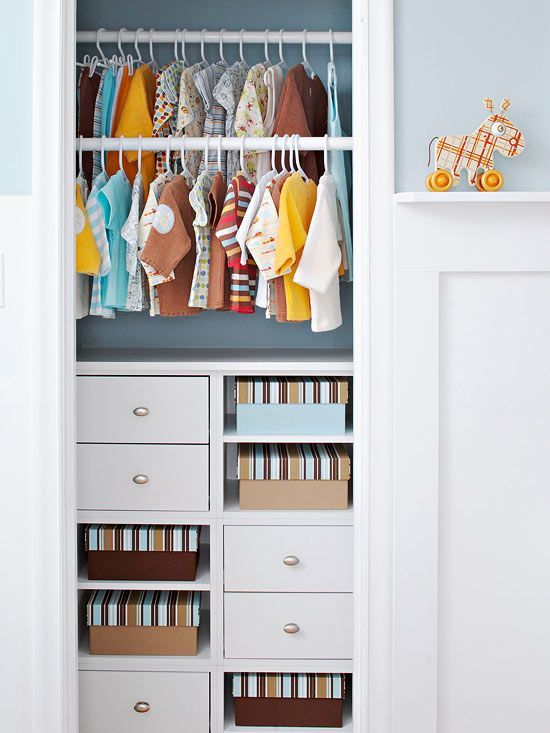 nine0073
2. Aesthetics. No dryers placed in the room, no clothes hanging over the bathroom, no baskets with dirty laundry in the bathroom: a separate laundry room allows you to make the process of caring for your things as aesthetic as possible.
3. Space saving. Paradoxically, setting up a small home laundry room will save a lot of space in the rest of the apartment. You can refuse utility cabinets and chests of drawers. nine0005
How to set up a compact laundry room: 7 important points
1. Plan ahead. The smaller the area allocated for the arrangement of the utility room, the more carefully plan literally every centimeter of space.
Think about how the appliances will be located and where you will need sockets (for a washing machine, dryer, iron). Mark the plumbing points for connecting the units.
2. Responsibly approach the choice of equipment. nine0072 Household helpers are something that cannot be saved on in any way when arranging a home laundry.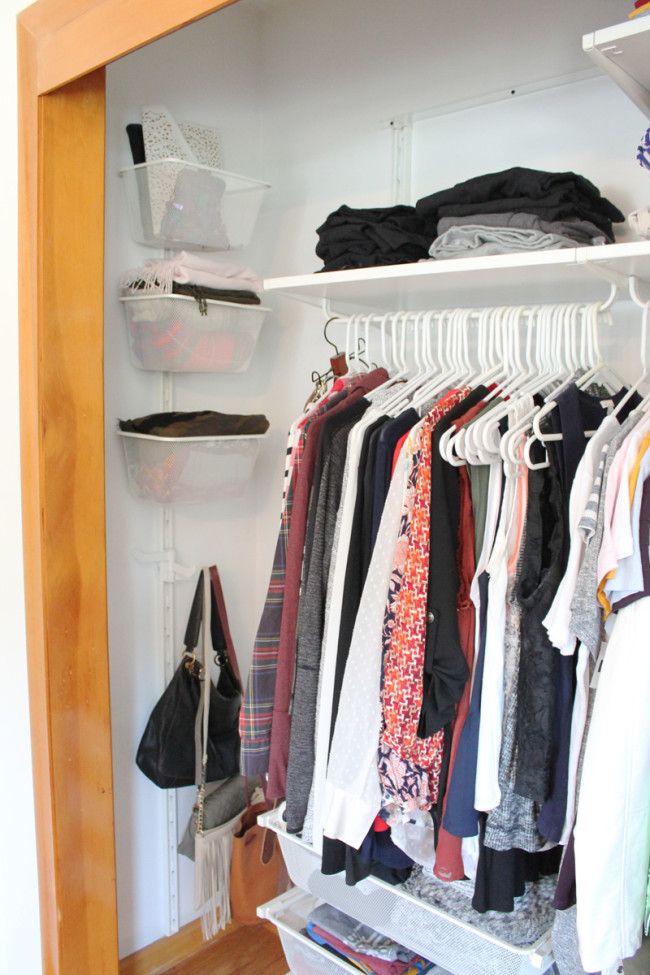 Choose the model that suits you in terms of load volume and dimensions, efficiently consuming resources and having all the washing modes that your family needs.
3. Don't forget ventilation. Even if you decide to organize a mini-laundry without a clothes dryer, ventilation will do a good job - it will prevent the formation of mold and mildew and get rid of the damp smell. And if your laundry room has a place to dry things, you can't do without a good ventilation system. nine0005
4. Consider making custom furniture. Even the smallest utility room is indispensable without organized storage. Bespoke cabinets and shelves put every inch of available space to good use.
5. Transform! Use pull-out and folding systems. The ability to "hide" an ironing board or dryer as unnecessary will help in organizing a functional laundry room in a modest area.
6. Use hidden reserves. Use the space above the door and on the door itself, organize storage vertically, up to the ceiling, do not forget about hooks, hangers and shelves.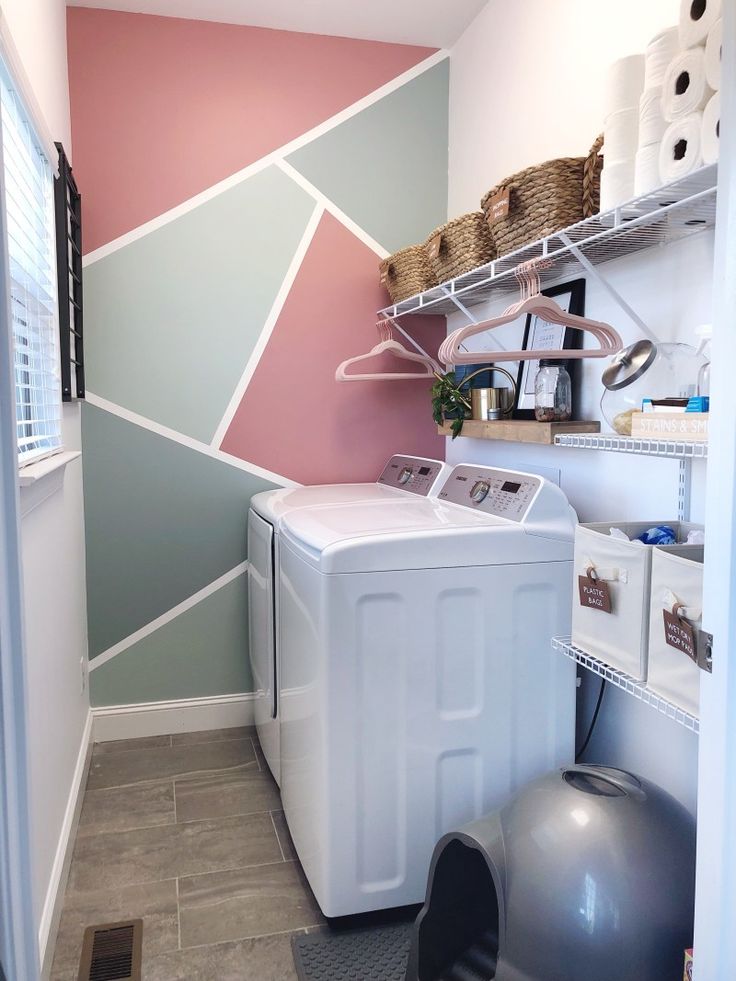 If the room has a window sill or mezzanine, do not leave them unattended.
7. Add comfort. Even if your laundry room is just a corner in the apartment or a small room without windows, this is no reason to leave the space uncomfortable and uninhabited. Add a few decorative details, put a beautiful planter with a potted flower. nine0005
Focus on ergonomics: 3 more secret tricks
1. Place the washing machine on its pedestal. If your appliance is a top-loading appliance, place it on a pedestal or small nightstand. Firstly, it will become more convenient to load laundry. Secondly, there will be additional storage space.
2. Niches in the wall. When there is not enough space, recesses in the wall can be a real salvation: a washing machine can be partially pushed into the recess or shelves can be placed there, organizing storage. nine0073
3. Laundry in the closet. Opt for a compact version that puts everything you need in just one utility closet.