Small kitchen light fixture ideas
9 Small Kitchen Lighting Ideas for Big Results
One of the most important details in a modern kitchen is the lighting. Great lighting in a small kitchen can make the space feel larger and function better. Get inspired by these 9 lighting ideas that will make a big impact in a small kitchen.
Types of Lighting
Before you start planning the lighting and picking the fixtures, you should understand the three types of lighting used in lighting design. They are general (ambient) lighting, task lighting, and accent lighting. Think of each type as a layer of light with a specific purpose.
Interior designers consider all three types when designing a project. This creates a well-rounded design and ensures that your space is adequately lit.
Here is a quick overview of the three types of lighting.
Ambient Lighting
Also called general lighting, ambient lighting is meant to provide overall illumination for a room. It should provide uniform light throughout the room, without depending on other light sources.
Ceiling lights are often the primary source of ambient light.
Task Lighting
Task lighting is just as it sounds. It brightens an area enough to perform tasks like reading, writing, or cooking. Proper task lighting should create high illumination for a designated surface or area.
It's good practice to be able to turn task lighting on and off independently of other lighting in the room.
Desk lamps and pendant lights are examples of task lighting.
Accent Lighting
When you want to draw attention to a specific point in a room, use accent lighting. This can include highlighting architectural features, artwork, plants, or items in a collection.
Accent lighting has more flexibility than the other types of lighting in terms of fixtures and their placement. Wall-mounted fixtures, downlights, uplights, and backlights are great examples of accent lighting.
While it's not required lighting, accent lighting creates a well-rounded room design.
Lighting Ideas for A Small Kitchen
Idea #1 – Recessed Lighting
Recessed lighting is popular for all spaces.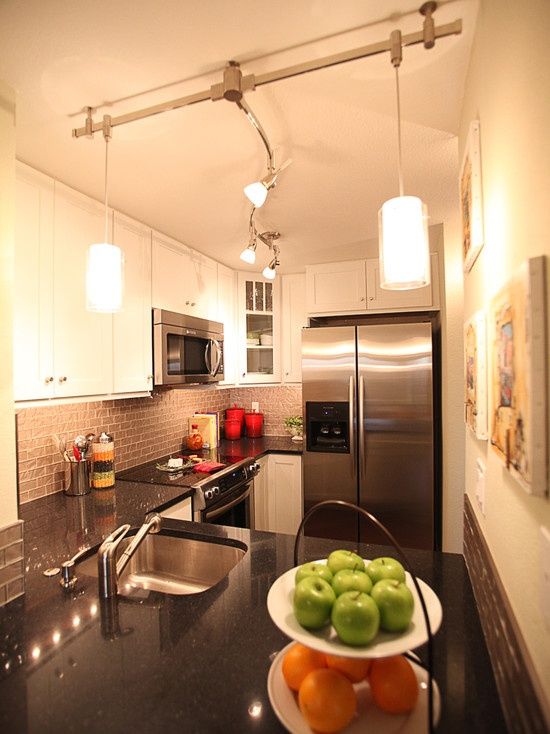 But because of its versatility, it's especially good for small kitchens. LED recessed lights are small and unobtrusive, and work great for general, task, or accent lighting.
Recessed lighting is more functional than decorative, so combining it with fixtures is a great way to add detail to the overall design.
Idea #2 – Under Cabinet Lighting
Installing lights under the cabinets is the most effective way to illuminate your workspace as you prep, cook, and bake. Since they are mounted to the bottom of the upper cabinets, they are positioned perfectly between you and the countertop which eliminates shadows.
There are several types of lights that can be installed under cabinets. They include slim fixtures, puck lights, and LED strip lights.
If your cabinets do not go all the way to the ceiling, you can also add above cabinet lighting that shines upward and reflects off the ceiling. The can help a small kitchen feel larger, and also creates a nice ambiance when the overhead lights are off.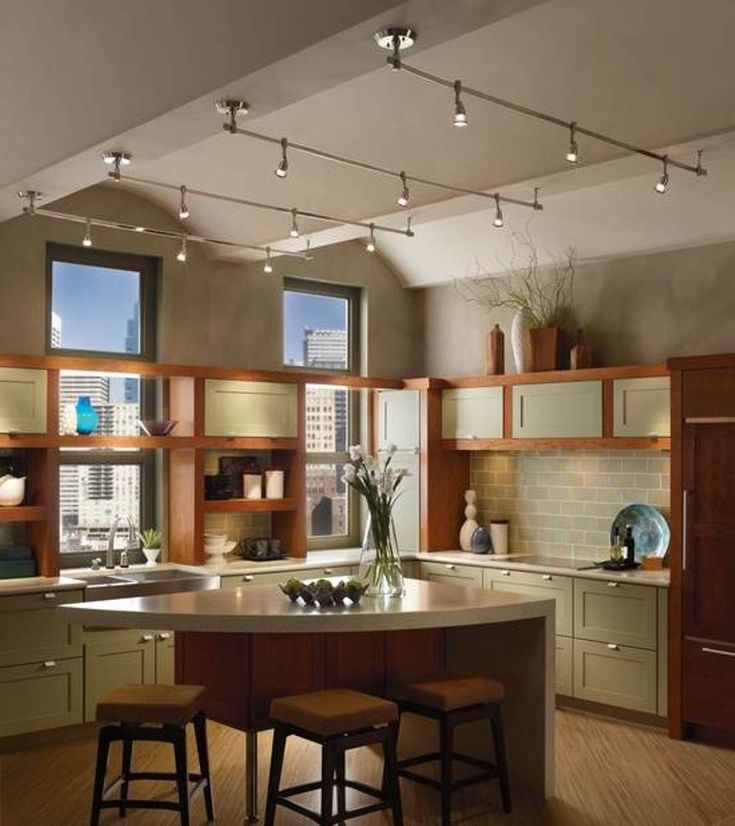 Idea #3 – Lighting Centerpiece
A centerpiece light is a fixture that becomes the focal point of the design.
If your kitchen has a low ceiling, a flush mount or semi-flush mount fixture can look stunning and fit perfectly in a small kitchen design.
Idea #4 – Pendant Lighting
Pendant lights are a kitchen staple. They are ceiling-mounted lights that suspend a single light bulb in the fixture. They come in a variety of designs and can be hung at different heights.
You'll typically find pendant lights installed over a kitchen island. However, some small kitchens don't have the space for a center island. That doesn't mean you can't use pendant lighting. A group of two or three pendants above a peninsula can be the perfect combination of task lighting and a focal centerpiece.
Idea #5 – Inside a Cabinet
Cabinet lighting can be functional and decorative. If you have cabinets with glass doors, it can provide a soft illumination for the entire kitchen.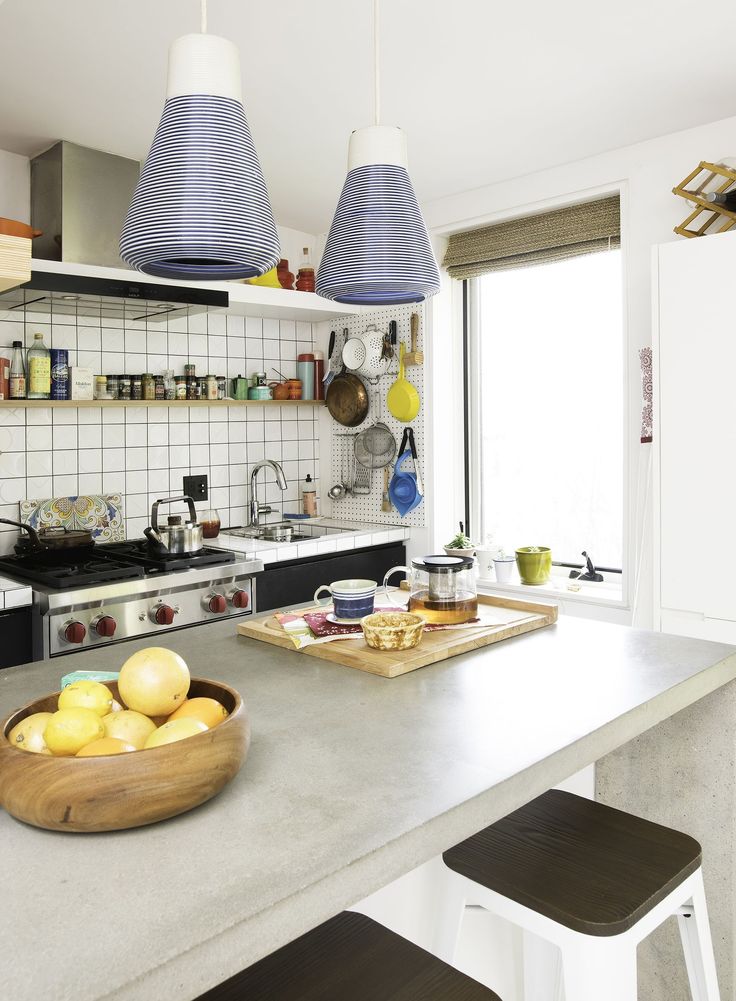 It can also make a small kitchen feel larger.
If you decide to add lights inside the cabinets, there are few ways to do it. If you light the cabinet from the top, you'll need to use glass shelves so that the light can travel throughout the cabinet.
A second option is to use LED strip lights and install them vertically on both sides of the inside face of the cabinet. This will light the entire cabinet whether you use wood or glass shelves.
Idea #6 – Backlight Open Shelving
Open shelving is both an aesthetic choice and a great storage solution for small kitchens. It can be used to display a mix of dishes and decor.
It also creates an opportunity to feature the shelving using backlighting. This is done by installing LED strip lighting where the shelf meets the wall.
Idea #7 – Wall Sconces
Wall sconces can be a great choice for ambient or task lighting in small kitchens. Need to add more light to the kitchen but can't fit a ceiling light? A wall sconce fixture could be a great solution.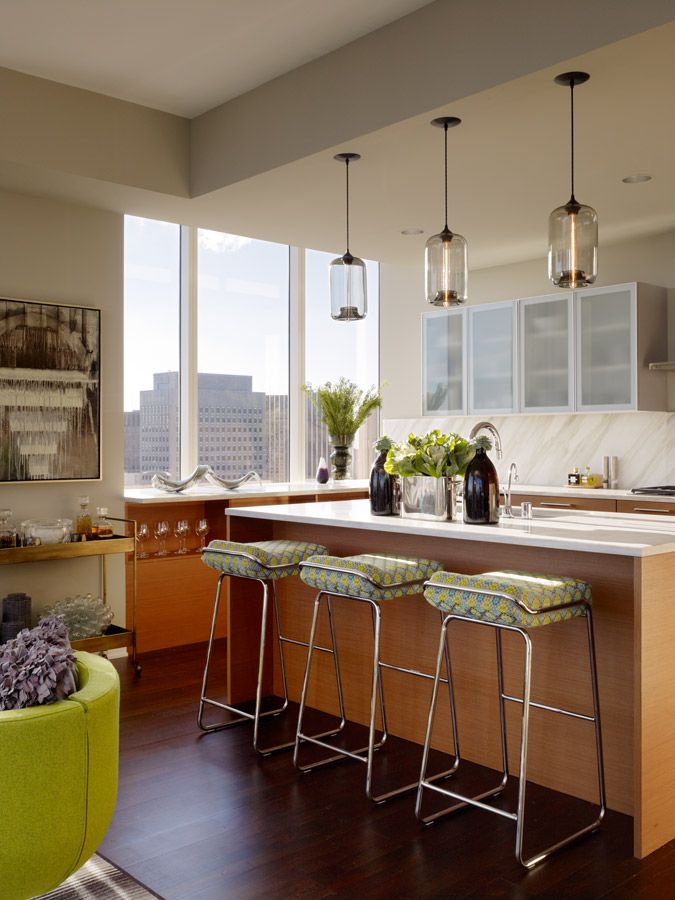 If you have a place in your kitchen without upper cabinets, consider opting for wall light. It can be used illuminate a dark corner or install one as a task light directly above the kitchen sink.
Idea #8 – Track Lighting
If recessed lighting isn't possible in your small kitchen, track lighting can be a good alternative. These ceiling-level adjustable spotlights (aka heads) are mounted to the ceiling on a fixed track and can be aimed in any direction.
If you decide to use track lighting in your kitchen, I recommend installing the tracks in a symmetrical pattern across the ceiling. Then use multiple heads to direct the light as needed.
Idea #9 – Light Up Drawers
Drawers shouldn't feel like an endless black hole, especially not in a small kitchen. Adding a small LED light inside the drawers will illuminate the space.
A drawer light is typically installed on the inside face of the cabinet above the drawer, and controlled by a sensor so it turns on automatically when you open the drawer.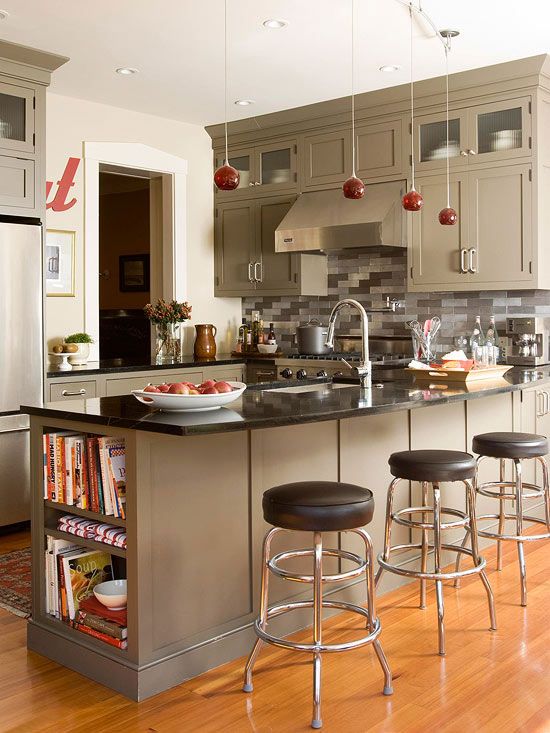 Besides being practical, this is the kind of detail that makes it look like a professional designed the kitchen.
Small Kitchen Lighting Design Tips
Now that you have some ideas to light your small kitchen, use these interior lighting design tips to pull the area together. These are especially important in a small space to prevent it from feeling cluttered.
Use Lighting to Define Spaces
Lighting can define a space. If you have an open floor plan, have your electrical fixtures wired in a way that the kitchen is controlled separately from other spaces like the breakfast nook and family room.
The light fixtures should also be organized in the ceiling so that they are placed and aligned in a logical way.
Keep Scale in Mind
Nothing makes a small room look overcrowded like furniture and fixtures that are too large for the space. You may have fallen in love with a stunning chandelier, but if it's too large, it can look out of place in the room.
When shopping for fixtures, pay attention to how low a light will hang so you don't have to dodge pendants as you walk through your kitchen.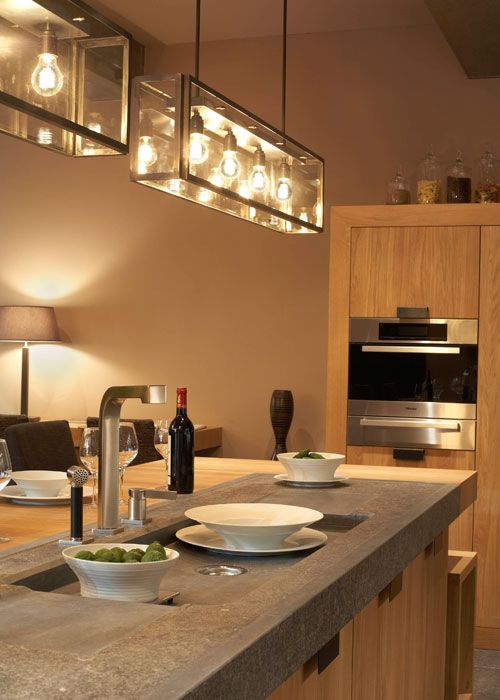 You also don't want to choose lights that are too small for the room and won't provide enough light for the space.
Color Temperature is Everything
Color temperature is the hue of white that a light gives off. It is measured in kelvins (k). The lower the kelvin number, the warmer the hue. Warm lighting (~2700K) has yellow hues, while cool lighting (~5000K) has bluish-white hues.
Cool lighting is bright when illuminated. It's commonly used in commercial spaces, so it can look too harsh in a home. Warm lighting feels more welcoming in most residential settings.
As a rule of thumb, sticking to a color temperature around 3000K for residential setting is a safe bet that's not too yellow or too white.
Don't overdo it
It can be easy to get carried away with lighting in a small kitchen, so try not to overdo it.
Limit the number of fixtures in the ceiling to what's necessary, and keep hanging fixtures to a minimum. If you are using pendant lights above a peninsula, don't also hang a chandelier in the middle – do one or the other.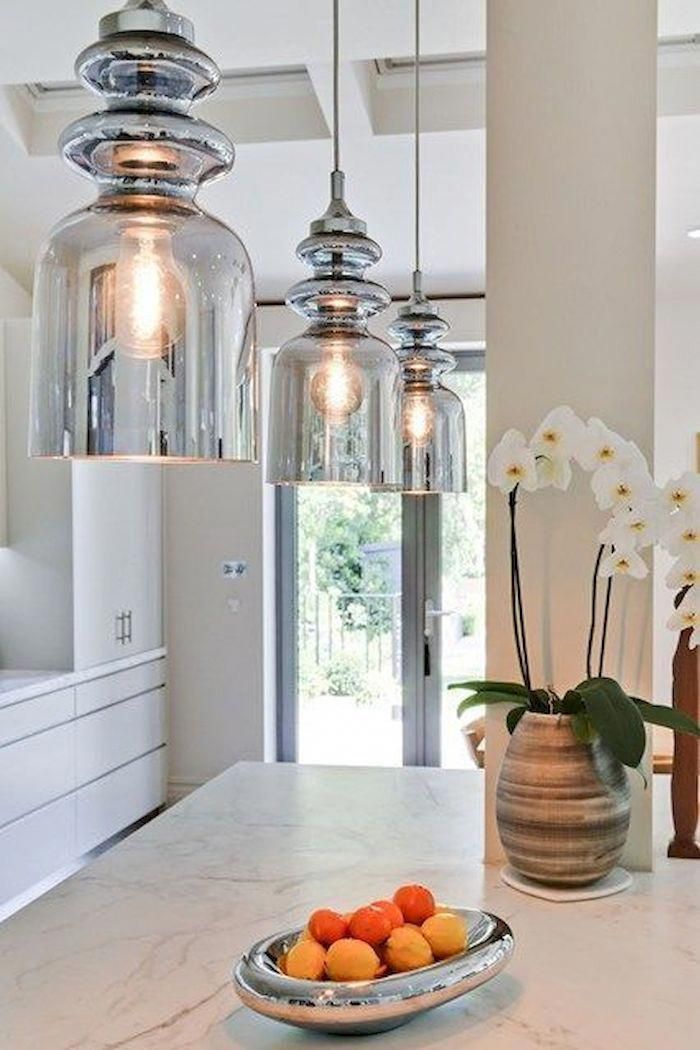 In Conclusion
Whether you're doing a total kitchen renovation or just a small makeover, updating the lighting is one of the best improvements you can make.
Hopefully I've presented you with some ideas that will provide the decorative and functional lighting you need, and make a big difference in your small kitchen.
13 Lighting Ideas for Small Kitchens
By
Sarah Lyon
Sarah Lyon
Sarah Lyon is a freelance writer and home decor enthusiast, who enjoys sharing good finds on home items. Since 2018, she has contributed to a variety of lifestyle publications, including Apartment Therapy and Architectural Digest.
Learn more about The Spruce's Editorial Process
Published on 03/31/22
Desiree Burns
Your small kitchen deserves to shine—literally! "Like any room in your home, creating layers of lighting from the ceiling down is imperative," designer Amy Youngblood says.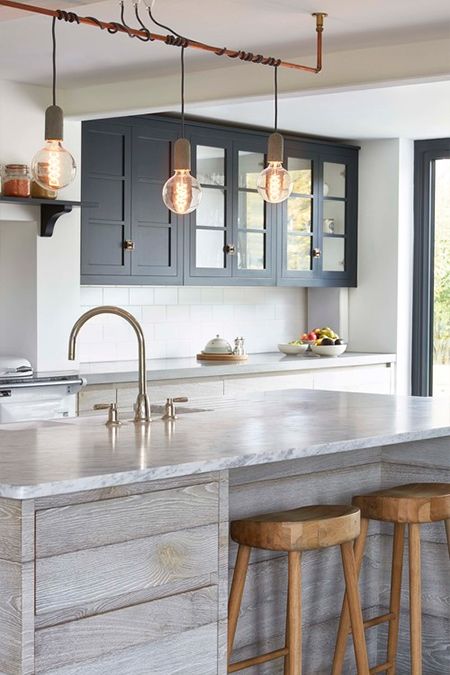 "This is true especially for a small kitchen—if it is not well lit, it will look even smaller."
So how can you easily introduce plenty of functional lighting into your pint sized cooking space? We spoke with designers who weighed in on everything from the benefits of statement lighting to minimalistic solutions.
01 of 13

Install Statement Lighting

JLK Interiors

Why not go big with an oversized lighting piece? Designer Paige Gray urges homeowners to do just that in the kitchen. "I'd opt for a statement lighting piece that doubles as a piece of art," she notes. "Not only does it do a great job of lighting a small space by casting multi-directional light, but it makes for a beautiful centerpiece that's interesting to look at. "

02 of 13

Try a Little Lamp

Reema Desai for Heather DiSabella

Placing a tiny lamp on the countertop is another option if you're in need of extra light. Just be sure to opt for a lamp with a small footprint, anything too large will just be cumbersome, especially if your kitchen is already short on square footage.

03 of 13

Hang a Trio of Intricate Pendants

Murphy Maude Interiors

Whether you install one pendant light or several is your call—though designer Leslie Murphy is a proponent of going with three, even in a smaller sized kitchen, as she did in the space shown here. "For a compact space, I'd incorporate a trio of pendants above the counter," she comments. "It provides just the right amount of light above where you'll be preparing and cooking food." But the benefits go beyond the practical, she notes. "It's also a great way to add a bit of personality, glamour, and style in an otherwise confined space. "  

04 of 13

Try Some Globe-Shaped Pendants

Seth Caplan for DATE Interiors

Designer Molly Torres opted for this style of lighting in a recent kitchen project, pictured here. "Globe pendant lights are a favorite for compact kitchens because they have a large impact with a relatively small footprint," she explains.

05 of 13

Don't Forget About Under-Cabinet Lighting

Amy Leferink at Interior Impressions

 "This is crucial for work spaces, so use an LED strip to illuminate the countertop," designer Roz Murphy advises.

The 9 Best Under-Cabinet Lighting Options of 2022

06 of 13

Pick the Right Color Temperature

Amy Leferink at Interior Impressions

This is a key detail to make note of, designer Karen Harautuneian shares. "Make sure that the color temperature of the lamping in all of the fixtures is the same," she explains. "We use warm dimmable 2700 K LED fixtures for the recessed ceiling fixtures and for the under-cabinet lighting. We pair the LED fixtures with standard incandescent or 2700 K LED bulbs in both the decorative wall fixtures and ceiling pendants."

07 of 13

Pay Attention to Scale

Jane Beiles for Design Lines Signature

After all, you want to ensure that the fixture you choose doesn't look out of place in your small kitchen. "If you use a fixture that is too heavy in proportion or large in scale it will dominate the room," Harautuneian explains. "On the flip side, the use of a small decorative fixture in a small room makes the room look even smaller."

08 of 13

Use Lighting to Define Distinct Spaces

Jane Beiles for Georgia Zikas Design

Here, in this space by Georgia Zikas Design, a pendant light helps make this small kitchen's breakfast nook feel as though it's a separate room, even though it's actually part of the narrow gallery kitchen.

09 of 13

Light Some Candles

@mariannesides / Instagram

Whether you opt for real flames or faux candles is up to you, but we love the touch of romance that candlelight brings to a small kitchen. This corner nook is the perfect place for a little extra flicker or light.

10 of 13

Also Include Task Lighting

Avery Nicole Photography for Kristin Marino

"It's also important to include task lighting, such as over the sink, to provide adequate light when performing everyday tasks," designer Kristin Marino notes. After all, the dishes won't scrub themselves!

11 of 13

Add Warmth With Sconces

@mycityapartment / Instagram

If your small kitchen also doubles as a seating area, warm up that portion of the room by hanging a sconce or two on the wall.

12 of 13

Make Minimalistic Choices

Lindye Galloway

According to designer Lindye Galloway, "Small kitchens tend to look best with a minimalistic lighting design." For Galloway, this means choosing subdued colors. "Neutral colored flush mounts or pendants help illuminate the room without taking away from the space. In addition, these lighting fixtures assist in distributing light evenly throughout."

13 of 13

Try a Larger Table Lamp

@karinalamarener / Instagram

If you don't have many appliances that take up space on the counter, you can always opt for a table lamp that's a bit more substantial in size. We like how this one is set atop some cookbooks so that not an inch of space goes to waste!
Let there be light! - the right lighting for a small kitchen
A small kitchen requires good lighting - we have already talked about this many times in our other articles. A brightly lit kitchen looks more spacious, and well-placed light sources make working in such a kitchen comfortable and enjoyable.
Whatever the size of the kitchen, there are three main areas that need their own light source. This is the kitchen as a whole (the central lighting of the kitchen), the illumination of the working area and the illumination of the dining table.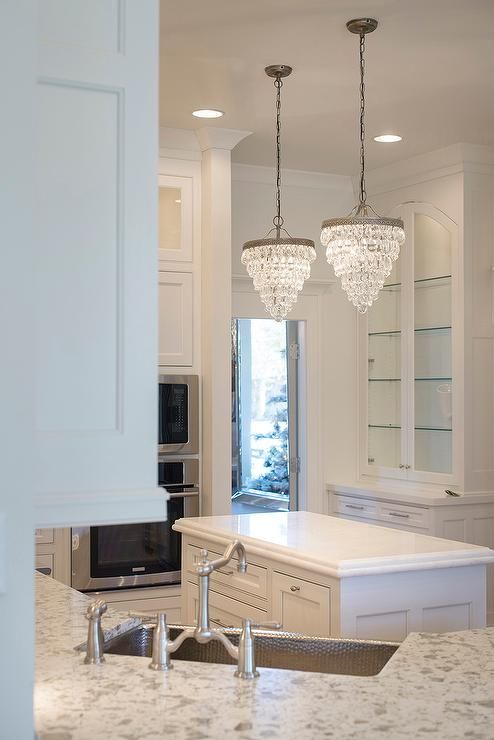 Let's look at each of them.
Central kitchen lighting:
In the vast majority of apartments, the most popular lighting option for a small kitchen is a single light source, which is located in the center of the room. As a rule, this is a chandelier with one shade or lampshade.
At first glance, it may seem that such lighting is enough for a small room. But it's not.
The light source located in the center of the kitchen makes it impossible to evenly illuminate the entire area of ​​the room. The corners of the kitchen remain poorly lit, which visually reduces the already small space of the kitchen. Little light also enters the working area of ​​the kitchen, because, firstly, hanging cabinets that are often located above the work surface prevent the penetration of light from above, and secondly, the light is blocked by the person himself, who, as a rule, stands at the stove, sink or worktop. areas with their backs to the light. Therefore, such lighting is far from ideal.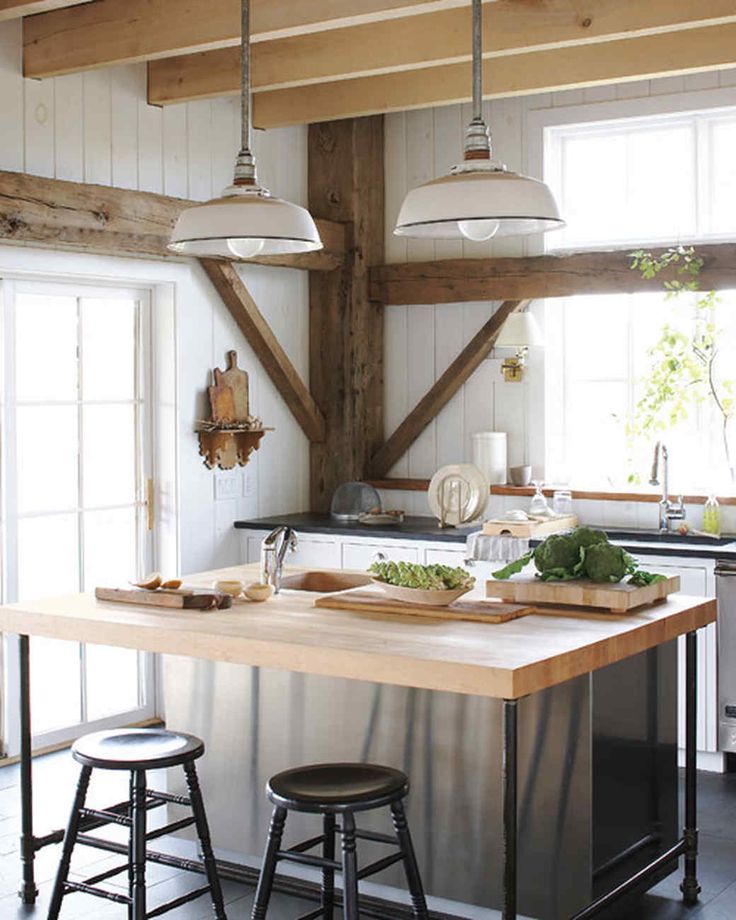 In order to achieve uniform illumination of the entire area of ​​the kitchen, it is necessary to use several lamps, which will be located at the same distance from each other. Therefore, the central lighting of a small kitchen is best organized using spotlights, swivel lights (spotlights) or spotlights.
A great advantage of the swivel luminaires is the ability to adjust the light direction. This will allow you to illuminate all corners of the kitchen and make it visually larger.
It is best to place the central lighting in a small kitchen right under the ceiling.
Smaller kitchens often don't have high ceilings, and low lights will make the ceiling even lower.
If you do not have the opportunity to make several points of central lighting in the kitchen, we recommend that you at least replace the classic chandelier with one shade with a chandelier with several small shades and with the ability to adjust the light direction.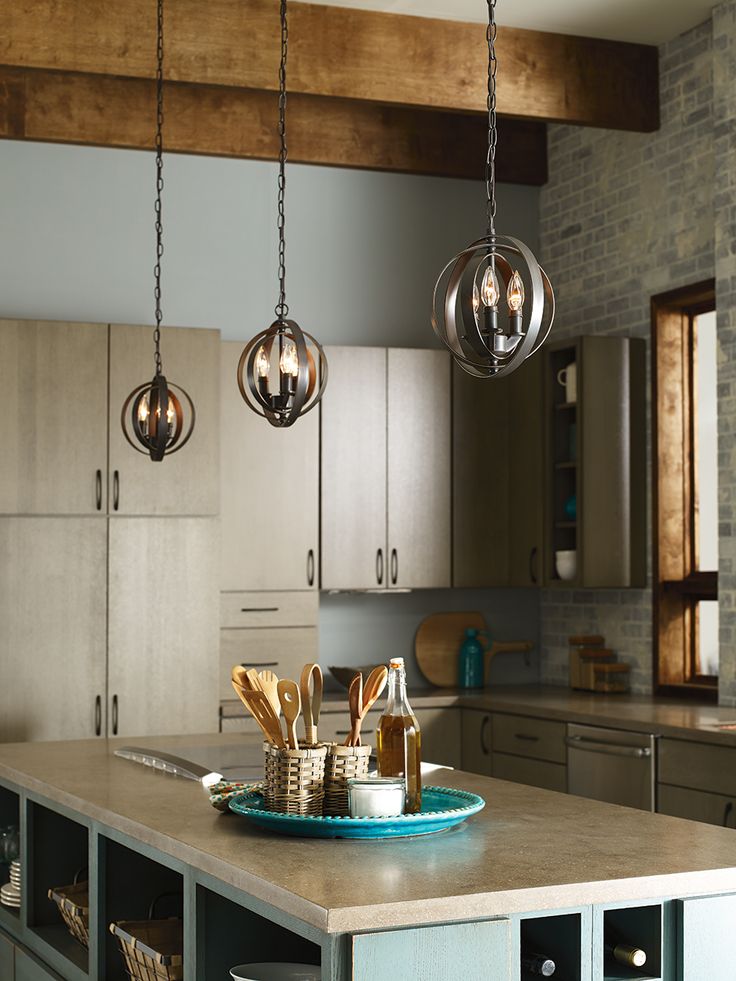 In general, massive chandeliers, lampshades and lamps should be avoided in the interior of a small kitchen. It is better to give preference to neat, small lamps with a concise design.
Work area lighting:
The next place in the kitchen that needs additional lighting is the work area. Namely - a sink, a desktop and a plate. As mentioned above, when using only one central light source, a person, standing at the work surface and with his back to him, casts a shadow on the work surface. Working in such conditions becomes extremely inconvenient. Therefore, the illumination of the working area is mandatory not only for small-sized, but for all kitchens in general.
Spotlights built into wall cabinets as well as hanging lights or LED strips can be used as lighting for the work area.
As a rule, stove lighting is not a problem, since most often the kitchen hood already has built-in lighting.
An interesting solution is a swivel luminaire with a flexible long stem.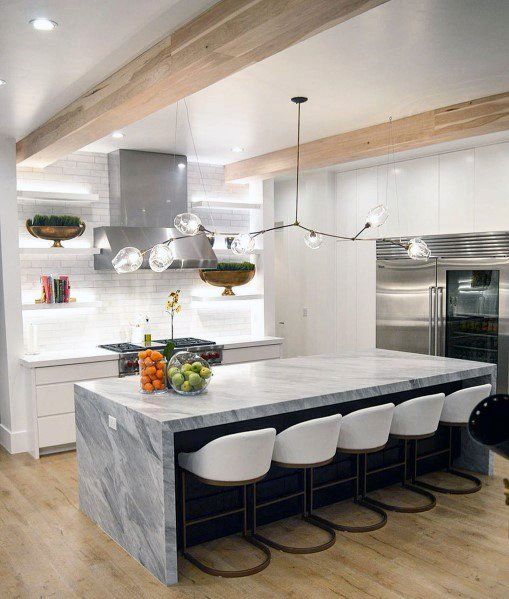 You can direct the light in the direction where you are currently working.
Dining table lighting:
Unlike central lighting, a single height-adjustable luminaire is perfect for illuminating the dining area.
You can also use several lamps that harmonize with each other and together create a composition.
It is worth remembering that the wider the ceiling, the more illuminated the dining table will be. For the dining area, you should choose lamps with an inner white part. Such a lamp will not shade dishes and absorb light.
Cold or warm?
We have dealt with lighting points and types of lamps. It remains only to choose the bulbs for our lamps, but even here it is not so simple. It is known that the most optimal for the human eye and perception is sunlight. But, unfortunately, no light bulb manufacturer has yet been able to accurately recreate sunlight.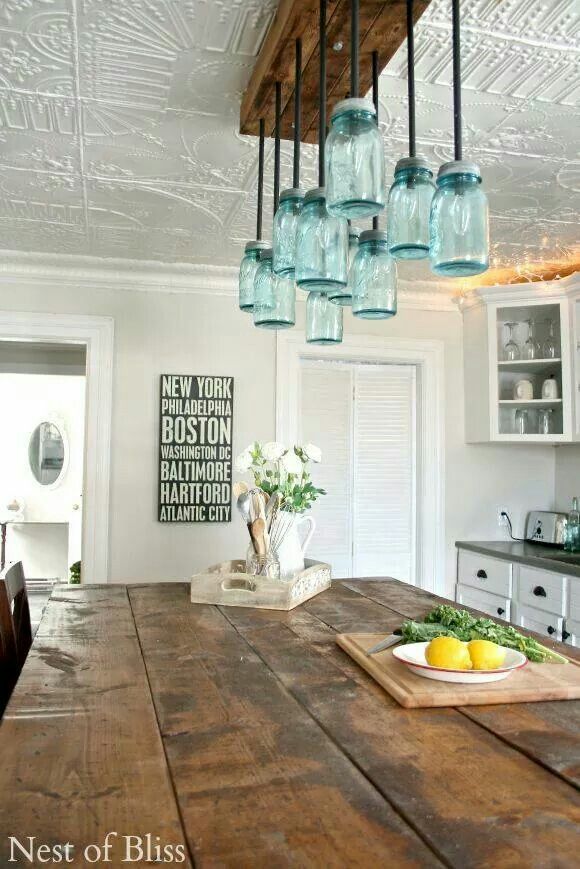 Each lamp has its own color and light characteristics, which determine the perception of the interior as a whole. Let's try to figure them out.
Each lamp has 2 main parameters that you should pay attention to when buying. These are color rendering index and color temperature .
Color rendering index
This indicator determines how adequately the color scheme of the interior will be perceived, that is, how artificial lighting will distort it. On the packaging, this indicator is marked with the letters CRI or Ra. Lamps with an indicator of 90-100 give the least distortion. They should be chosen to illuminate a small kitchen.

Color temperature
This parameter controls the color of the light. It is marked with the letter K on the package. The color temperature varies from warm (2700K) to cold (6000K).
For residential areas it is best to choose lamps of warm (2700-3000K) or neutral (4100K) light.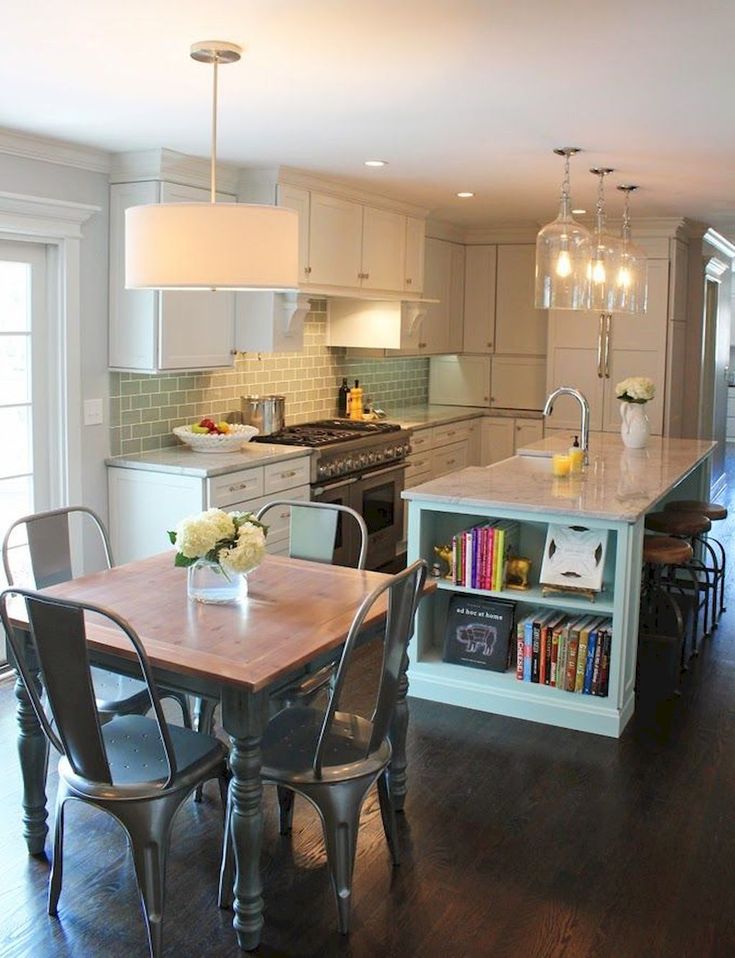 Cold light is more suitable for offices and other institutions, as it sets the mood for work and promotes concentration.
Like the article? Share with friends! :)
Kitchen lighting: 30 photo examples of interior design
Contents
Types of lighting: track, spot, built-in, LED, for cabinets
Variants of a modern stretch ceiling in the dining room kitchen: 10 examples
Design recessed lighting in the interior of the kitchen
Beautiful trendy lamps in the interior of the kitchen
Lighting in the kitchen is very important both in practical and aesthetic terms. In a modern Italian kitchen interior design project, lighting is sure to be multifaceted. For example, spot lighting on the ceiling will be complemented by a chandelier, sconces, countertop and cupboard lighting.
The more different light sources, the more lighting scenarios you will have. By the way, LED strips and spotlights can have different shades of glow, which will help create an intimate atmosphere, for example, for a romantic dinner.
Ceiling lighting in the kitchen is one of the most important details. It is best to choose the option with a trio - a chandelier + LED strip on the edge of the false ceiling + spotlights around the perimeter of the false ceiling.
Best Price Guaranteed!
Show the calculation from any company - and we are guaranteed to offer cheaper.
10% discount when ordering before December 1, 2022.
Types of lighting: track, spot, built-in, LED, for cabinets
The lighting in the kitchen in the photo does not look as important as in reality. In fact, the lighting and the color of the lamps greatly affect your perception of the kitchen. The white or silver glow usually makes your eyes tire quickly, especially when cooking. Therefore, we recommend light yellow, pale yellow and warm yellow shades of lamps for general lighting and gold/yellow/colored red for decorative lighting.
Ceiling spotlights on the perimeter ceiling
Spot lighting in the kitchen is usually created on a stretch or suspended ceiling.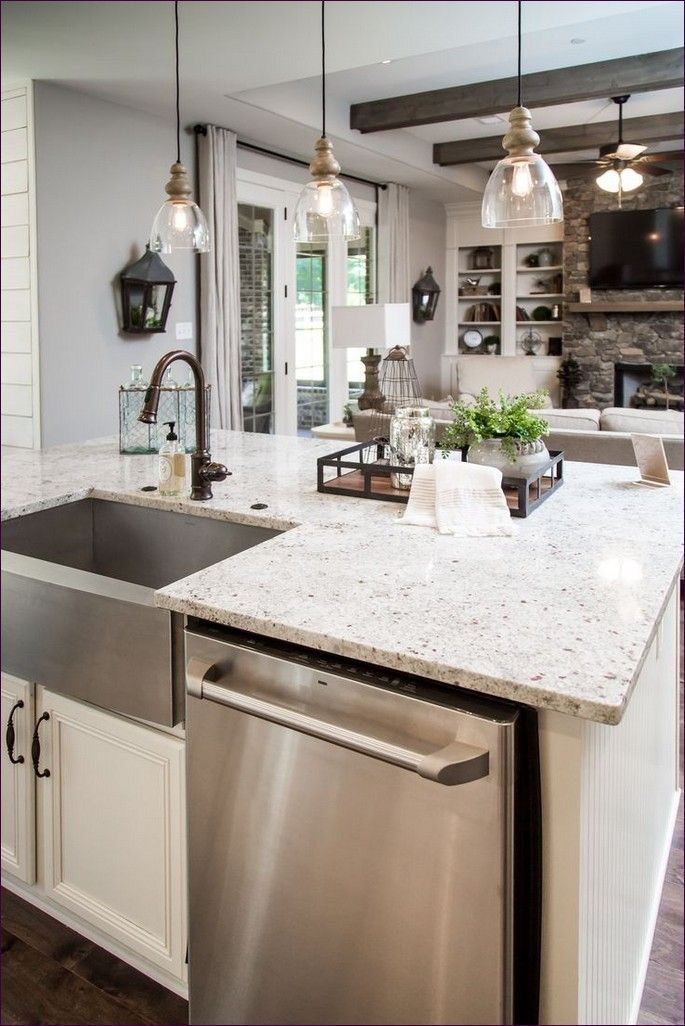 Most often we are talking about round, square or rectangular spotlights, built into one line around the perimeter or over the entire ceiling area. Such lamps can be repeated more often in the area of ​​​​the kitchen set and less often - in the center of the room or at the countertop, by the window. A stretch ceiling with spotlights will most likely be complemented by the main lamp - a chandelier.
LED strip along the perimeter of the ceiling in the interior
This stylish version of the LED strip around the perimeter of the room looks very stylish. It futuristically highlights the art deco accent chandelier and floor lamp.
Track profile luminaires
Track lighting in the kitchen or profile rail systems are two types of luminaires strung together in a line. Track lights are an outdoor type where the track itself is visible on the surface of the ceiling. Whereas profile rail systems are built-in long niches, from which even geometric patterns (such as rectangles or more complex shapes) can be composed.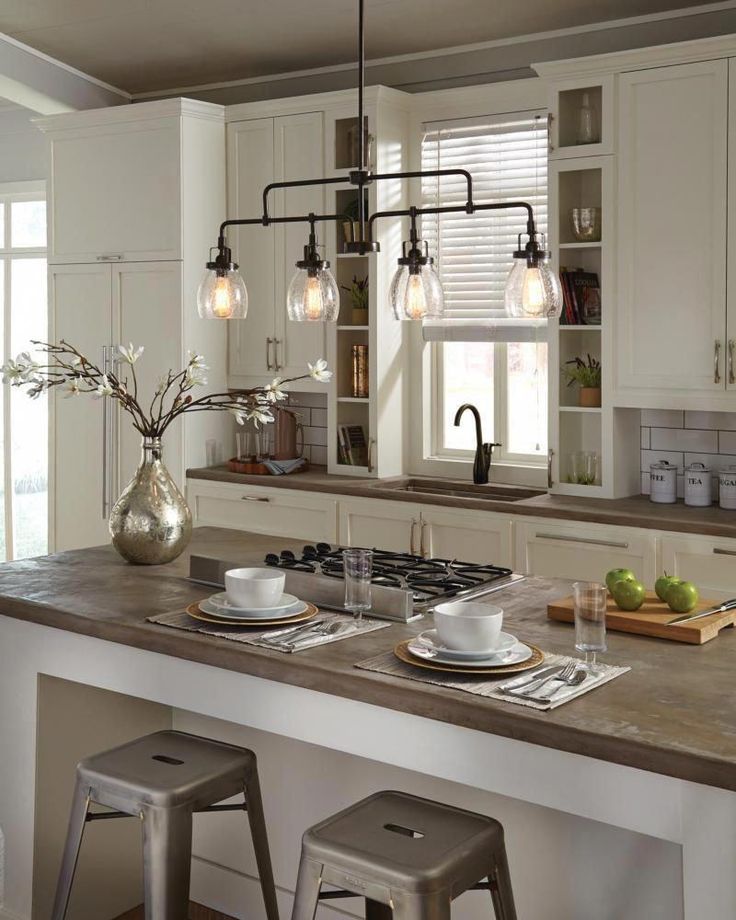 Profile systems look especially impressive in contrasting colors (black on white, gray on white, etc.).
Illumination of built-in cupboards in the interior of the kitchen
Stylish lighting of cupboard modules can become the most important decorative element in the interior of the kitchen. Usually it works from a special switch and immediately in all lockers.
Kitchen interior with versatile recessed lighting
The versatility of built-in lighting guarantees a cozy atmosphere and highlights all dark and shady areas in the interior. Built-in lighting is never too much!
Go to the catalog of kitchens
The catalog contains all the factories producing Italian kitchens from inexpensive models to premium and elite ones.
Kitchen catalog
Modern kitchens classic kitchens Loft kitchens Kitchen Provence Neoclassical kitchens Art Deco Kitchens
Variants of a modern stretch ceiling in the dining room kitchen: 10 examples
Lighting in the living room kitchen is no different from lighting in a separate kitchen, but the ceiling design can be divided into two or three zones.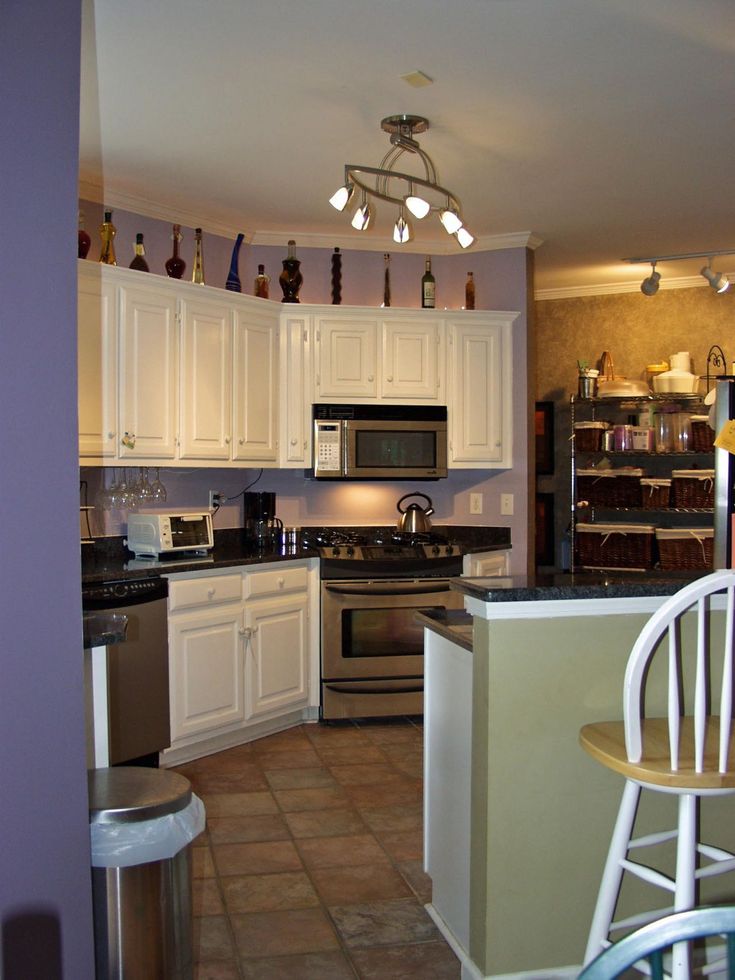 Usually - on the culinary and kitchen-dining area. At the same time, in the kitchen-living room there may be accent lamps above the dining group. The suspended ceiling in the kitchen-living room can be designed on several levels, and in a separate small kitchen, a continuous stretch ceiling is usually used.
Kitchen-living room with central stretch and false plasterboard ceiling
Lighting the kitchen area - its culinary part - is extremely important. Particularly important is the working lighting of the kitchen. The LED strip can be built into the headset or be installed on top of the apron. There are options for spot lighting in the headset itself, if it is provided for in the model of this brand. You also need spotlights on the ceiling directly above you when you are standing in front of the countertop, since the light of the chandelier will be blocked by your back.
Kitchen-dining room with stretch and false ceiling with a rectangular niche
Typical kitchen lighting is usually done in a modern style.
In the classics there can be openwork elements, in art deco - geometric, in neoclassical - simple moldings and decor. In general, the design of the ceiling looks modern, although the interior may reflect the fashion trends of a completely different era. Since the decoration of the ceiling is usually white, and we do not often look up, there is no dissonance in styles. Lighting in a small kitchen can be completely strict and minimalistic.
Simple stretch ceiling in a small loft style kitchen
Lighting in the kitchen with a stretch ceiling can be very different. Track lighting (and profile busbar systems), built-in spotlights, chandeliers, LED threads around the perimeter are possible here. A stretch ceiling can have zones with suspended plasterboard elements with a variety of lighting. Remember that the white kitchen needs lighting too!
Plasterboard step for built-in lighting along the set
Lighting above the kitchen - either directly above the cabinetry or at the top (crown) of the upper cabinets - can be very useful for accentuating the design of the fronts of the kitchen cabinet.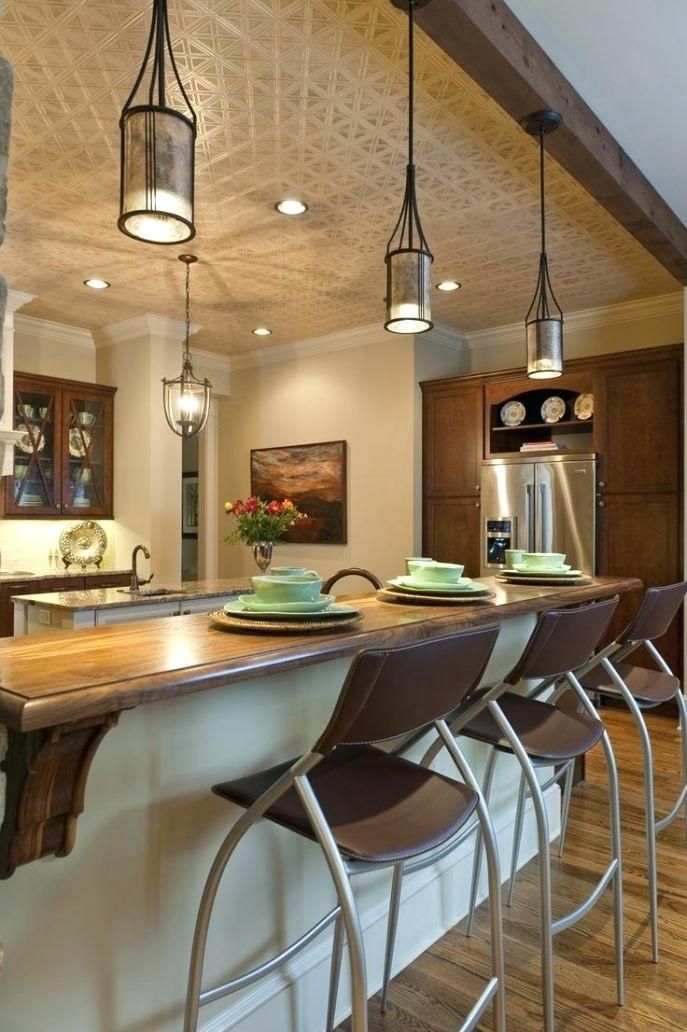 It is too far from here to the countertop to consider such lighting useful for the work area, but it can be very beautiful nonetheless.
Suspended ceiling with spotlights around the room and chandelier socket
Lamps create a safe zone for cooking, which is why proper lighting of the kitchen worktop is so important. In addition to the chandelier, we recommend spotlights at the bottom of the upper wall cabinets or an LED strip in the same place.
Design suspended ceiling with bionic shapes in contemporary style
Now consider table lighting in the kitchen (or island). The most common option involves using light from the main lamp or spotlights on the ceiling + a couple of sconces on the wall in front of the table. The option with an accent lamp (paired or even triple) right above the table can also be very interesting.
Stylish false ceiling with rounded edges and LED strip
In the interior of the futuristic kitchen in the visualization above, we see several elements of built-in lighting and super-fashionable spherical lamps on a gold frame at once.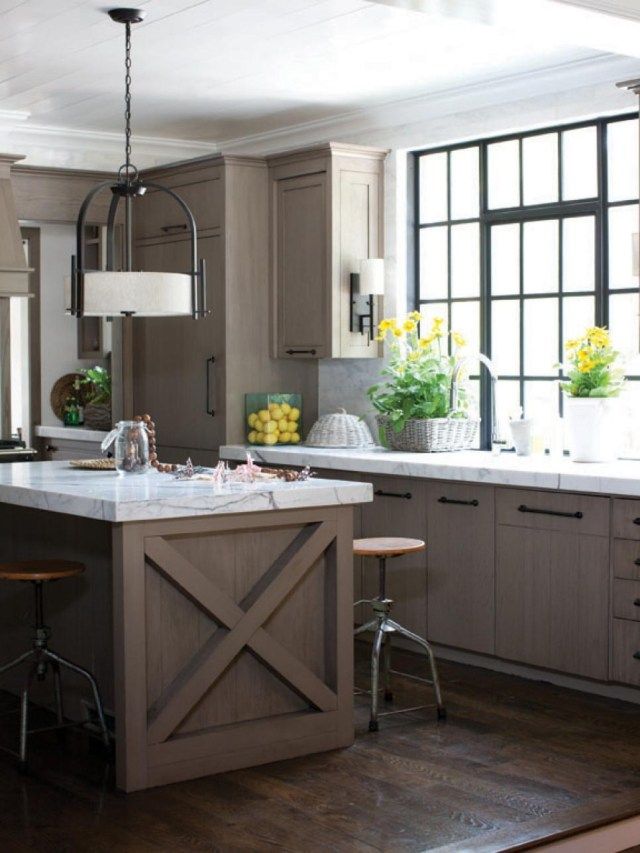 Finishing the facades in rose gold-tone metal looks simply gorgeous here!
Kitchen-living room with stretch and false ceiling with LED strip in silver
The LED strip in a silver glow on the ceiling complements this green interior with a Venetian terrazzo floor in a futuristic way.
Kitchen-dining room with LED lighting around the ceiling
Another kitchen option with LED lighting, two neoclassical chandeliers and a pair of sconces in the dining room.
Design recessed lighting in the kitchen interior
The lighting in the kitchen under the wall cabinets can be silver, pale yellow, gold or even colored - the choice is yours. By the way, the apron itself can be supplemented with lighting. Backsplash lighting, often used for onyx or marble, looks very impressive.
Recessed lighting in kitchen hood
Some household appliances have their own built-in lighting: hoods, refrigerators and freezers with glass doors, ovens (in active mode), espresso machines (in active mode), etc.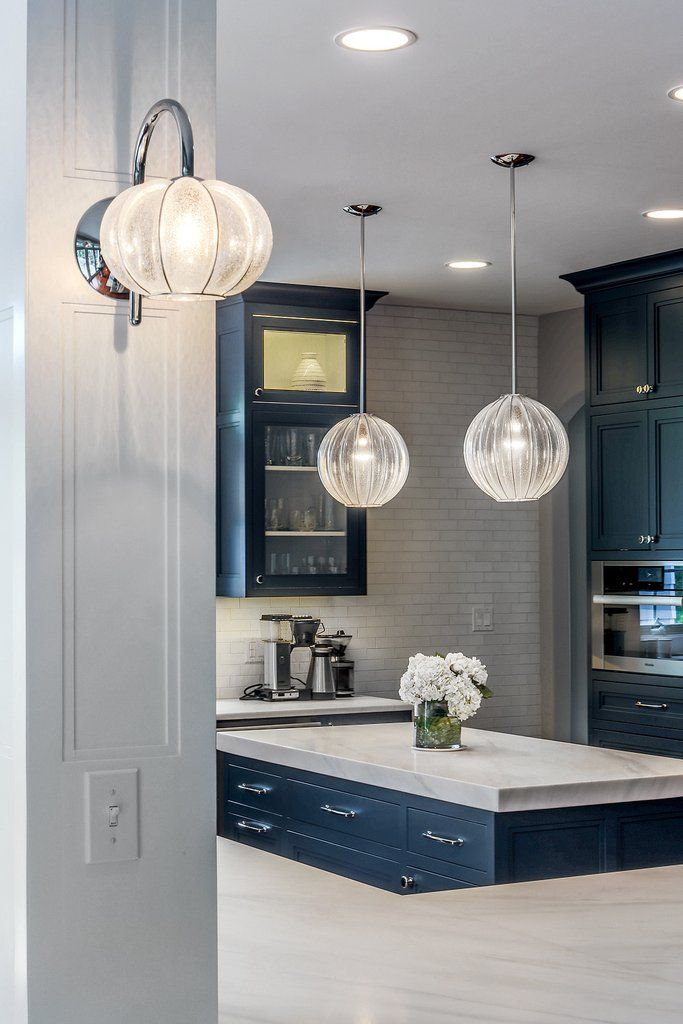 Accent ball-shaped cascade lamp above the bar
In the photo above, we show a variant of the cascading ball-shaped lamp with a gold base.
Luxurious kitchen cupboard lighting
In the visualization above, you can see a modern-style kitchen set with beautifully illuminated cupboards.
Peninsula accents and shelf lighting
Another trendy version of the double cap lamp above the bar. Pay attention to the LED strip in the design of the shelves on the side.
Design lighting for decorative shelves in the kitchen
You can see a stunning design option for shelf lighting in the design of the futuristic headset in the visualization above.
Beautiful trendy lamps in the kitchen interior
The chandelier chosen by the designer for your kitchen can be especially luxurious. There are several types of popular pendant lights suitable for kitchen interiors.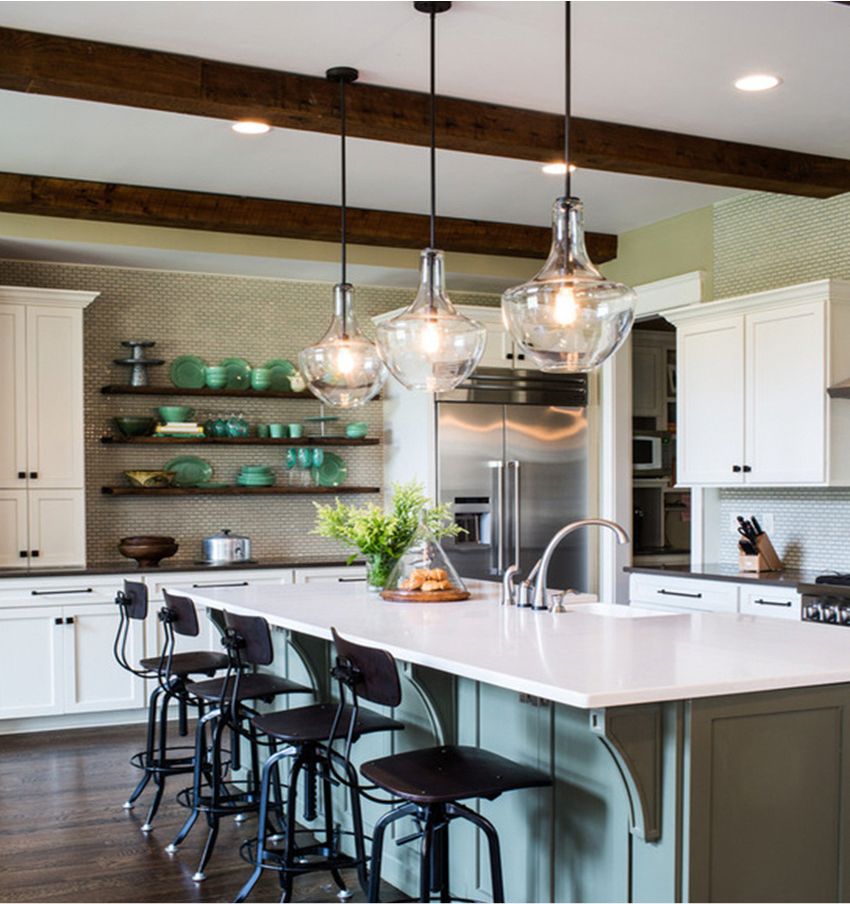 Luxurious French white chandelier with classic silhouette
For example, French classic chandeliers with crystal are one of those.
Neoclassical chandelier with gold-tone crystal elements
Blown glass chandeliers are popular in luxury interiors, especially in dining rooms.
Triple art deco spotlights over the peninsula
Also in fashion are art deco lamps, which are often made of glass with refraction, gold, metal and crystal. They usually have a geometric shape, pronounced and technical.
Parametric lamps above the kitchen island
Another popular style is modern contemporary with parametric elements. Such lamps or chandeliers can resemble the details of a spaceship and have repetitive parametric elements: circles, grids, geometric shapes such as rhombuses or others.
Neoclassical crystal chandeliers on metal steel frame
Such a neoclassical style chandelier with art deco elements will look great in any pro-French interior.